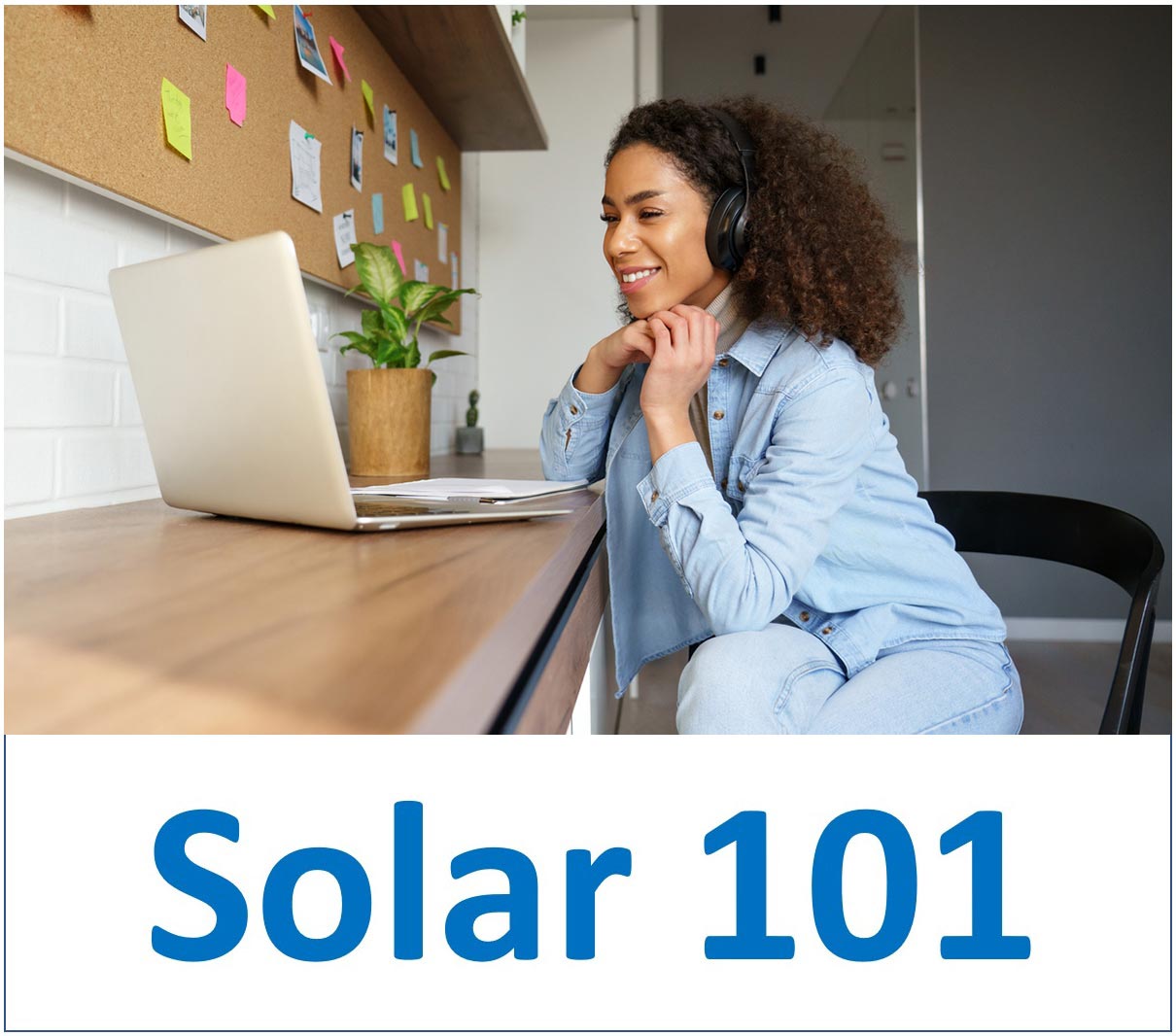 Solar 101 for residential and small commercial applications
For non-technical employees
Do your employees need basic solar energy training?
Solar 101 is a basic introduction to solar photovoltaic (PV) power systems and the industry around them, with a focus on residential systems.  This 6-hour course is specifically designed for new employees working in or around the solar industry, who need to understand the basics and the terminology in order to do their jobs effectively.  This course is ideal for administrative, customer service, sales, marketing, team managers, project developers, and even installers.
Class topics
Solar photovoltaic (PV) growth trends and statistics
Answers to the most frequently asked questions about PV systems
Basic terminology used in the solar industry
Solar PV vs solar water heating vs passive solar design
The nature of solar panels and how they work
Recent improvements and new upcoming product breakthroughs
Net metering: What it is and how it works
Basic system configurations and the three inverter topologies
The economics of solar energy systems and the incentives available
Ownership options and the pros and cons of each
Financing solar PV systems
The possible contractual obligations associated with leases and PPAs
Adding energy storage batteries to a PV system
Understanding the most appropriate solar panel mounting system for a site
Solar performance monitoring systems
Warranties and insurance for PV systems
Site and design considerations
Installation and commissioning considerations
Maintenance requirements and the most common causes of failure
Software tools used in the industry
About the instructor
Jeff Gilbert is a 27-year veteran of the solar industry who has been leading solar education and training courses for much of these 27 years.  Jeff holds a BS is mechanical engineering, and is one of only eleven people nationwide to have received the full NABCEP certification for both PV and Solar Thermal systems.  Jeff has personally created all training materials for this course and will deliver 100% of this training.
Money back guaranty:  If you take this course, and for any reason are not completely satisfied we will refund your money.  No hard feelings.
Hourly Schedule
SCHEDULE
09:00 AM

-

12:00 PM

Jun 29, 2023

Eastern Time (US and Canada)
09:00 AM

-

12:00 PM

Jun 30, 2023

Eastern Time (US and Canada)